MUSICAL
Every 2022 Disney+ Movie & TV Show Confirmed So Far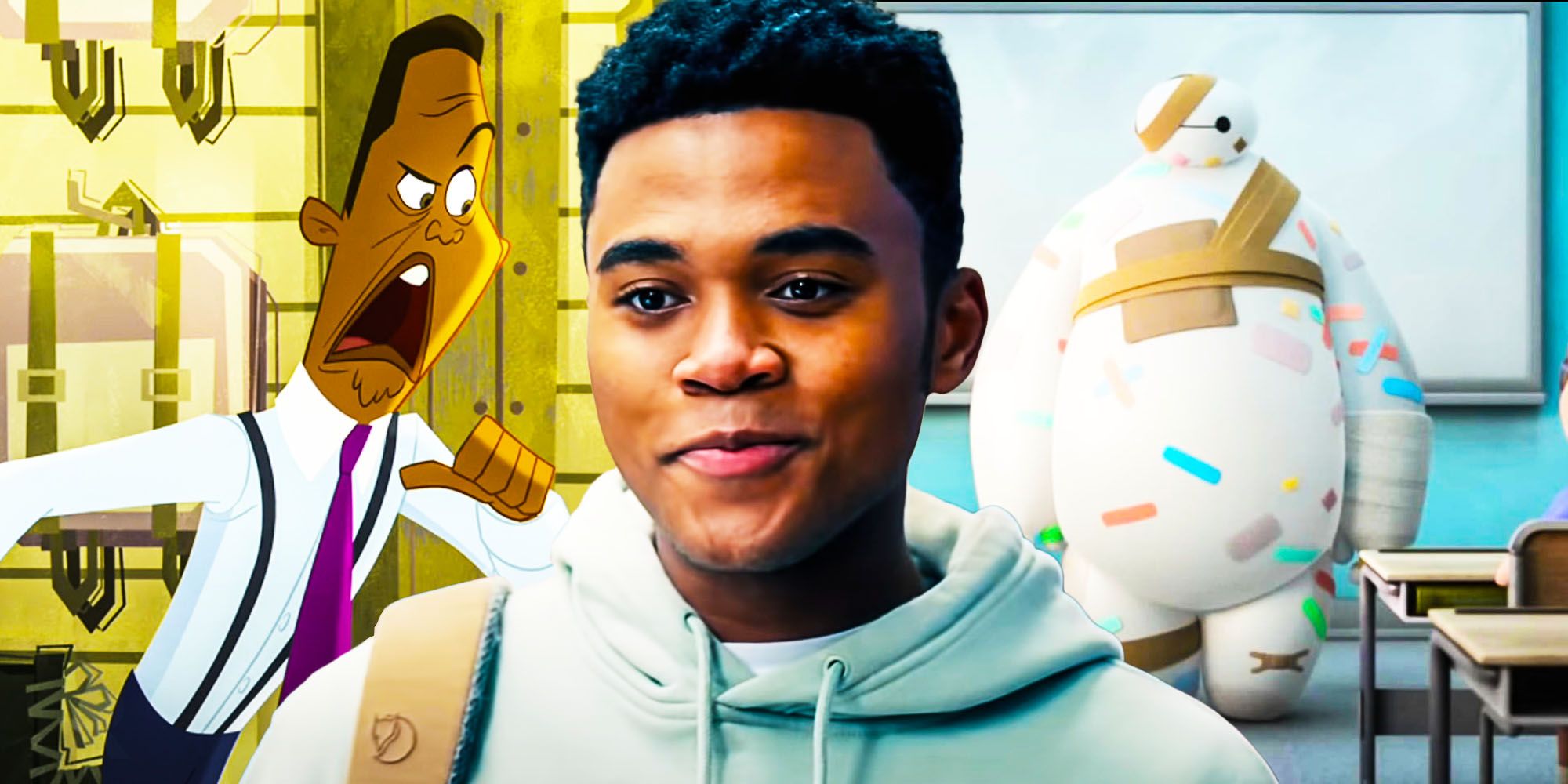 Here is every Disney+ movie and TV show confirmed for release in 2022. As The Walt Disney Company's proprietary streaming service, Disney+ hosts a library of content from Disney's existing portfolio, in addition to sections dedicated to Disney's subsidiaries, including Pixar, Marvel, Lucasfilm, National Geographic and 20th Century Animation.
On November 12, 2019, Disney+ was officially launched, gaining more than 15 million subscribers within its first week. As more films and television shows are added, a steady growth in its number of subscribers has been observed, and in just two years, Disney+ already boasts over 118 million subscribers worldwide. That is why The Walt Disney Company opted to celebrate the platform's second anniversary by hosting Disney+ Day.
RELATED: Every Upcoming Marvel Studios Disney+ TV Show
Despite being a disaster, the Disney+ Day offered first looks at upcoming movies and television shows to be aired on the streaming service. Disney+ promises a smorgasbord of highly-anticipated original content, sequels, revivals, and adaptations. So far, here is everything confirmed to be released in 2022.
The Ice Age Adventures of Buck Wild (January 28)
When Disney acquired the franchise's animation studio, Blue Sky Studios, the supposed Ice Age television series has been reshaped into a full-length feature film. Instead of continuing the Ice Age franchise, The Ice Age Adventures of Buck Wild is a spin-off film focusing on Buck, the one-eyed weasel and dinosaur hunter in Ice Age: Dawn of the Dinosaur. Simon Pegg reprises his role as Buck, who goes on an adventure in the Dinosaur World with twin possums, Crash and Eddie.
Sneakerella (February 18)
A modern retelling of the classic Disney fairy tale Cinderella, Sneakerella follows El, an aspirant sneaker designer, as he meets and falls in love with Kira King, the daughter of an influential sneaker tycoon. With the help of his best friend and his Fairy Godfather, El navigates love and pursues his dreams amidst fast-paced New York. Directed by Elizabeth Allen Rosenbaum, Sneakerella stars Chosen Jacobs and Lexi Underwood.
The Proud Family: Louder and Prouder (February)
The Proud Family is an animated television series that ran for two seasons on Disney Channel from 2001 to 2005. A television film also aired as the show's finale for its original run. In 2020, the show was ordered to receive a third-season revival called The Proud Family: Louder and Prouder. The original cast is set to reprise their roles, while celebrities, including Eva Longoria, Jaden Smith, Tiffany Hadish, Lizzo, Lil Nas X, and Hamilton's Leslie Odom, Jr., are also featured.
RELATED: Why Marvel's Disney+ Day News Fell Flat (Should Fans Be Worried About The MCU?)
Cheaper By the Dozen (March)
Based on the Gilbreth autobiographical novels, Cheaper By the Dozen is an established multimedia franchise depicting the stories of and relationships within large families. A reboot of the franchise is scheduled for a March premiere. Cheaper By the Dozen stars Gabrielle Union and Zach Braff, focusing on a blended multiracial family.
Black Rock Shooter: Dawn Fall (April)
During the Disney+ Asia-Pacific Content Showcase Event, new original shows were announced as part of the streaming service's expansion. A reboot of the Japanese anime series Black Rock Shooter, created by Ryohei Fuke, is set to premiere in April. Focusing on the eponymous female protagonist, Black Rock Shooter: Dawn Fall is directed by Tensho and written by Makoto Fukami and Ryō Yoshigami.
Chip 'n Dale Rescue Rangers (Spring)
Based on the animated Disney comedy series of the same name, Chip 'n Dale: Rescue Rangers is a feature-length film combining live-action and computer-generated effects, similar to the modern Alvin & the Chipmunks franchise. Directed by Akiva Schaffer, the film stars Documentary Now!'s John Mulaney as Chip and Brooklyn Nine-Nine's Andy Samberg as Dale. Corey Burton, who voiced Dale in the original show, voices Zipper, while Seth Rogen has an announced cameo.
Better Nate Than Ever (Spring)
Better Nate Than Ever is the musical comedy adaptation of director Tim Federle's 2013 middle-grade novel of the same name. The film sees unpopular teenager Nate as he goes to New York with his best friend Libby in order to audition for a Broadway musical. Rueby Wood plays Nate, while Joshua Bassett of Disney's High School Musical: The Musical: The Series plays his older brother, Anthony. They are joined by Aria Brooks, Michelle Federer, Norbert Leo Butz, and Lisa Kudrow.
RELATED: Why Disney Put Their Disney+ Day Footage Behind A Paywall
Baymax! (Summer)
Following the success of the animated Marvel Comics-based film Big Hero 6 and its follow-up series, a spin-off show titled Baymax! will be released on Disney+ in the summer of 2022. The show explores the adventures of the titular inflatable robot, as he fulfills his role of assisting the citizens of San Fransokyo with their medical needs. Scott Adsit reprises his role as Baymax, while Maya Rudolph takes on the character of Aunt Cass.
Ms. Marvel (Summer)
The sixth television series in the Marvel Cinematic Universe, Ms. Marvel explores the origin story of Kamala Khan. A fan of Carol Danvers, Khan, played by Iman Vellani, is a Muslim Pakistani-American teenager who later on gains shape-shifting abilities. The show will set up the 2023 film The Marvels.
Disenchanted (Fall)
Disenchanted is set ten years after the 2007 fantasy film Enchanted. Now, Giselle, Robert, and Morgan have moved to the suburbs, and Giselle's wish of living out a fairy tale causes chaos both in her real life and in Andalasia. The Enchanted sequel will see its original cast return, including Amy Adams, Patrick Dempsey, and James Marden.
Hocus Pocus 2 (Fall)
The highly-anticipated sequel to Kenny Ortega's 1993 fantasy comedy, Hocus Pocus 2 welcomes the return of the villainous Sanderson sisters (Bette Midler, Sarah Jessica Parker, and Kathy Najimy) in present-day Salem. The film is written by Jen D'Angelo and directed by Anne Fletcher. Doug Jones also reprises his Hocus Pocus role as resurrected zombie Billy Butcherson.
RELATED: Two Years After Launch, Disney+ Still Hasn't Solved Its Biggest Problem
Pinocchio (Fall)
A remake of the 1940 animated film, Pinocchio employs a blend of live-action and CGI effects to bring the iconic character to life. Tom Hanks portrays the woodcarver Geppetto, while Benjamin Evan Ainsworth voices the titular character. Cynthia Erivo, Luke Evans, Joseph Gordon-Levitt, Lorraine Bracco, and Key and Peele's half Keegan-Michael Key also play major characters.
Star Wars: Andor (Late 2022)
Set five years before the 2016 Star Wars film Rogue One, the 12-episode show Andor centers on rebel spy Cassian Andor during his formative years in the Rebellion. Diego Luna reprises his role as Andor, and he also serves as the show's executive producer. He is joined by Stellan Skarsgård, Adria Arjona, Fiona Shaw, Denise Gough, Kyle Soller, Genevieve O'Reilly, and Forest Whitaker.
The Guardians of the Galaxy Holiday Special (December)
In the first television special set in the MCU, the entire Guardians of the Galaxy returns — Star-Lord, Gamora, Drax, Groot, Rocket, Nebula, and Mantis. The forty-minute special is filmed simultaneously with Guardians of the Galaxy Vol. 3, which is slated for release in 2023. Director James Gunn even noted that The Guardians of the Galaxy Holiday Special will introduce a new Marvel character.
Aladdin: Live From The West End (TBA)
Aladdin is a Broadway musical that tells the ever-familiar tale of a charming street rat, a genie in a lamp, and a princess. When the show ended in August 2019 after a record-breaking eight-year run, a special performance at the Prince Edward Theatre in London was filmed. The filmed show will be exclusively released on Disney+.
RELATED: Every Anime Coming To Disney Plus
America the Beautiful (TBA)
From National Geographic, which co-produced the 2020 drama The Right Stuff, comes an original documentary series called America the Beautiful. The show seeks to explore the wonders of America — the earth, the seas, the mountains, and the wilderness. Additionally, viewers get to witness the incredible wildlife and extreme forces of nature in the country.
Cars on the Road (TBA)
​​Cars on the Road is the third television series in the Cars franchise, after Cars Toons: Mater's Tall Tales and Cars Toons: Tales from Radiator Springs. Here, Lightning McQueen and his best friend Mater are going on a cross-country road trip, facing new adventures and meeting old and newfound friends. Larry the Cable Guy reprises his role as Mater, while Owen Wilson, who stars opposite Tom Hiddleston in Loki, comes back as Lightning McQueen.
Chang Can Dunk (TBA)
Directed by Jingyi Shao, Chang Can Dunk is a sports coming-of-age film. The plot focuses on Chang (Bloom Li), an unpopular Asian-American high schooler who is determined to prove his basketball skills, especially slam dunking. He is also on a quest to beat his high school's best, Matt, while pursuing his crush, Kristy.
Crater (TBA)
Starring Billy Barratt, Mckenna Grace, Isaiah Russell-Bailey, Orson Hong, Thomas Boyce, and Scott Mescudi, Crater is a coming-of-age science fiction film. It is directed by Kyle Patrick Alvarez and written by John Griffin. Billy's character is raised in a lunar mining colony following his father's death. There, he explores a mysterious crater with his best friends.
RELATED: New Data Proves The Real Power Of MCU Shows On Disney+
Diary of a Wimpy Kid: Rodrick Rules (TBA)
As part of the news shared during Disney+ Day, Jeff Kinney, creator of the Diary of a Wimpy Kid novel series, announced that the second animated film is already in development. Rodrick Rules is set to be released on Disney+ in 2022. The reveal comes right before the official poster for the 2021 animated reboot Diary of a Wimpy Kid is shown.
High School Musical: The Musical: The Series Season 3 (TBA)
Similarly, the Disney+ Twitter account also shared a teaser of High School Musical: The Musical: The Series season 3. With the clues "Love is an open door" and a snowflake emoji-filled tweet, it seems like the musical for the season will be Frozen. For the show's first season, the students of East High School staged High School Musical, while in season 2, they put on a production of Beauty and the Beast.
Hollywood Stargirl (TBA)
Hollywood Stargirl is a sequel to the 2020 jukebox musical Stargirl. The film follows Susan "Stargirl" Caraway (Grace VanderWaal) as she explores fame and success. New characters include Roxanne Martel, a famous musician to be played by ​​Uma Thurman, and Mr. Mitchell, Stargirl's new neighbor to be portrayed by Judd Hirsch.
Iwájú (TBA)
Limitless with Chris Hemsworth (TBA)
Another National Geographic offering, Limitless with Chris Hemsworth follows the Thor actor as he subjects himself to different extreme situations. Known for his state of physical fitness and muscular build, Chris Hemsworth seeks to test his physical, mental, and emotional resilience. In the trailer shown during Disney+ Day, Hemsworth is seen suspended from a thousand feet, swimming in icy cold waters, and jumping from tall buildings. The six-part series is directed by Darren Aronofsky (Requiem for a Dream).
Moon-Knight (TBA)
Moon Knight joins the list of MCU television series in Disney+. Starring Oscar Isaac, the superhero miniseries follows Marc Spector, a former US Marine who has dissociative identity disorder. With his multiple identities, he became involved in a deadly war of the gods. May Calamawy and Ethan Hawke join Isaac in the six-episode show.
Night at the Museum: Kahmunrah Rises Again (TBA)
Night at the Museum: Kahmunrah Rises Again is Disney's soft animated reboot of the Night at the Museum franchise. The film revolves around Nick Daley, who is unwilling to become a nightwatchman like his father, Larry. Aside from Nick and the titular villain, the film also includes returning characters, Jedediah, Octavius, Theodore "Teddy" Roosevelt, and Joan of Arc.
Peter Pan & Wendy (TBA)
Directed by David Lowery, Peter Pan & Wendy is a live-action adaptation of the 1953 animated film Peter Pan. Alexander Molony, who will make his debut in the film, stars as Peter Pan, while Ever Anderson, who plays young Natasha Romanoff in Black Widow, is Wendy Darling. They are joined by Jude Law, Yara Shahidi, Jim Gaffigan, and Alyssa Wapanatâhk.
RELATED: Disney+ Still Has A Long Way To Go Before Beating Netflix
Rise (TBA)
Rise is a biographical film honoring the story of the brothers-turned-NBA-stars Giannis and Thanasis Antetokounmpo of the Milwaukee Bucks, and Kostas Antetokounmpo, previously from the LeBron James-led Los Angeles Lakers. The film depicts the struggles of the Nigerian-Greek family as they go through immigration, deportation, and citizenship issues. The three boys discover basketball as their solace from the cruel world and realize they all have talent in playing.
Secret Invasion (TBA)
Created by Kyle Bradstreet (Mr. Robot), Secret Invasion centers on the Skrulls, a race of shapeshifting aliens, as they discreetly infiltrate Earth. The six-episode series sees Samuel L. Jackson reprise his role as Nick Fury, while Ben Mendelsohn returns as Talos, the Skrulls' leader first seen in Captain Marvel. Kingsley Ben-Adir has also been cast, alongside Olivia Colman, Emilia Clarke, Killian Scott, Christopher McDonald, and Carmen Ejogo.
She-Hulk (TBA)
During the Disney+ Day event, a subscriber-exclusive first look on She-Hulk was revealed. Tatiana Maslany stars as superhero lawyer and the fourth-wall-breaking She-Hulk, while Mark Ruffalo comes back as Smart Hulk, helping her with her condition. Tim Roth returns as the Abomination from the 2008 film The Incredible Hulk, and The Good Place's Jameela Jamil debuts in the MCU as Titania, She-Hulk's rival.
Star Wars: Obi-Wan Kenobi (TBA)
Another entry from the Star Wars franchise, Obi-Wan Kenobi is a six-episode series set a decade after the events of Star Wars: Episode III – Revenge of the Sith. The show follows the titular character, still portrayed by Ewan McGregor, as he goes on a "rollicking adventure". Hayden Christensen plays Darth Vader, while Joel Edgerton is Owen Lars, Luke Skywalker's uncle, and Bonnie Piesse is his wife, Beru Whitesun Lars.
RELATED: Is Star Wars At Disney+ Day Reason To Worry About 2022?
Three Men and a Baby (TBA)
Three Men and a Baby is the reboot of the 1987 hit comedy, which starred Tom Selleck, Steve Guttenberg, and Ted Danson. The 2022 version is led by Zac Efron, whose High School Musical breakout role made him a bankable actor. In 2010, a third Three Men and a Baby film was originally in development, but was eventually scrapped in favor of a Disney+ reboot to be directed by Maurice Marable.
Willow (TBA)
Willow is a fantasy television series that serves as a sequel to the 1988 George Lucas-produced film of the same name. The show follows Princess Kit (Ruby Cruz) as she assembles and leads a party to rescue her twin brother. Warwick Davis returns as the Nelwyn dwarf sorcerer Willow Ufgood.
Zootopia+ (TBA)
Zootopia+ is an animated television series zooming in on the lives of the unexplored side characters from the Nick and Judy-centered feature film Zootopia. These include Fru Fru, the newly-married daughter of crime lord Mr. Big, and Flash, the sloth working in the DMV. Zootopia+ is also known as Zootropolis+ in other areas, including the UK and the Middle East.
MORE: Every Upcoming Marvel Cinematic Universe Movie
1000-lb Sisters: Why Tammy Slaton's Back In The Hospital
About The Author