COMEDY
The 10 Best Comedy Movies Of The '90s, According To Letterboxd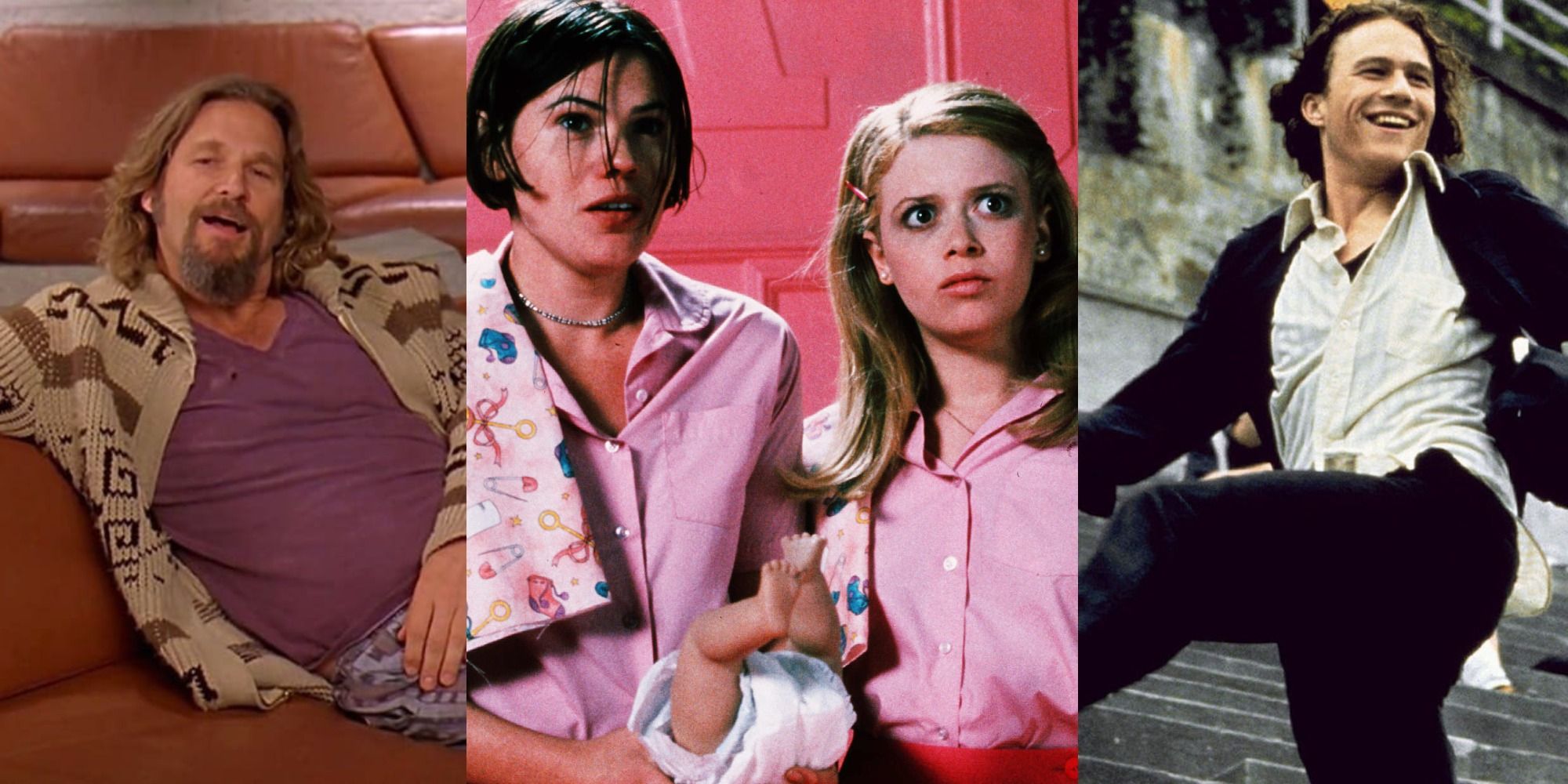 In a lot of cases, comedy movies don't tend to rank among the best films of any given year or decade. Most of them are designed to give the audience something to laugh about for 90 or so minutes and that doesn't always lend itself to actually be considered a great movie.
RELATED: The 10 Best Action Movies Of The '90s, According To Letterboxd
However, a handful of comedies have managed to buck that trend and be truly fantastic films that audiences remember forever. That is certainly true for the '90s, as the decade played host to some hilarious and touching films in the genre. They are from all over the world and scored impressively on Letterboxd.
10

But I'm A Cheerleader (1999) – 3.94
Stream on Vudu, Kanopy, Hoopla, Roku, Red Box, Plex, and IMDb TV
When But I'm A Cheerleader was first released, it was somewhat overlooked and didn't perform well at the box office. Over the years, it has amassed a cult following and become something of an iconic film within the LGBTQ+ community.
The satirical movie centers on a lesbian cheerleader (Natasha Lyonne) who is sent to a conversion camp by her conservative parents. Like 2009's Jennifer's Body, this got lackluster reviews at first but critics and audiences have warmed up to it since. The most common rating on Letterboxd is four stars (33%) but five stars (21%) is also a popular score.
9

10 Things I Hate About You (1999) – 3.95
Stream on Disney+ and Amazon Prime
The work of William Shakespeare has been adapted into movies and television shows for decades, so finding a fun or unique spin on them can be tough. Thankfully, the filmmakers of 10 Things I Hate About You managed to do that, turning The Taming of the Shrew into a blast of a teen romantic comedy.
The plot follows a teenage girl who isn't allowed to date until her anti-social older sister does, so a plan is hatched to get her to date the school tough guy. Boasting a tremendous cast of Julia Stiles, Heath Ledger, Joseph Gordon-Levitt, and more, the film is both heartwarming and funny, holding up decades later. Most reviews have it at four stars (28%) but many users gave it the full five (26%).
8

Being John Malkovich (1999) – 4.00
One of the most creative concepts for a film ever arrived at the end of the decade. Being John Malkovich literally takes place inside the body of actor John Malkovich as a puppeteer stumbles upon a portal that leads into his mind. It's no wonder it was up for Best Original Screenplay at the Oscars.
Starring Malkovich as a satirical version of himself (as well as John Cusack and Cameron Diaz), the strange film worked so well because it went all-in on the premise. Also scoring nominations for Best Director and Supporting Actress, Being John Malkovich was a hit. 35% of users have it at four stars out of five.
7

Eat Drink Man Woman (1994) – 4.01
Stream on Hoopla and Roku
Ang Lee has gone on to become one of the most acclaimed directors in Hollywood thanks to this visionary work on films such as Crouching Tiger, Hidden Dragon and Life of Pi. Before those visually stunning movies, he helmed a small comedy-drama called Eat Drink Man Woman.
RELATED: Ang Lee & 9 Other Modern East Asian Directors Every Film Lover Should Check Out
The plot focuses on a widowed master chef who lives in Taiwan with his three daughters and each of them goes on to find a major romantic partner. Although it sounds simple on paper, the execution was spot on and a whopping 39% of users gave this four stars.
6

Todo sobre mi madre (1999) – 4.07
Known in English as All About My Mother, 1999's Todo sobre mi madre is loaded with some of the top Spanish talents from the era. Cecilia Roth, Marisa Paredes, and Penélope Cruz are just some of the stars featured in this well-received film.
Although the story of a woman seeing her son die and then traveling to tell the father of the child (who never knew he existed) about his life is a serious one, the film is filled with enough moments of levity to hit the comedic beats the audience hopes for. Todo sobre mi madre won plenty of awards and most Letterboxd users gave it four stars (35%).
5

Forrest Gump (1994) – 4.11
Stream on Showtime and Fubo TV
You'd be hard-pressed to find a more iconic film of the '90s than Forrest Gump. After all, it is the rare comedy to win Best Picture while also leaving the Oscars with five other Academy Awards. The famous story follows the life of a kind man with a low IQ as he unknowingly influences major events around the world.
Critics and fans everywhere adored the phenomenal performance by Tom Hanks. Many consider Forrest Gump to be one of the greatest films made in the decade, whether from a comedic or dramatic standpoint. Letterboxd users agreed, with 31% of them giving this the perfect five-star rating.
4

The Big Lebowski (1998) – 4.12
Stream on Peacock, Showtime, IMDb TV, and Fubo TV
There are almost countless movies out there made by The Coen Brothers that have gone on to become iconic. The Big Lebowski is right up there with the best of them and might actually be their most beloved picture, which is saying something.
RELATED: 10 Best Coen Brothers Movies (According To Metacritic)
Though a moderate box office success, the film found new life over the years and is now a cult classic. The plot focuses on a slacker (Jeff Bridges) who is mistaken for a millionaire and it sends him on a wacky night alongside his bowling buddies. 30% of users gave it four stars and they can likely recite the quotable movie word for word.
3

The Truman Show (1998) – 4.14
Big screen comedies in the '90s belonged to Jim Carrey. In 1994 alone he starred in The Mask, Dumb and Dumber, and Ace Ventura: Pet Detective. A few years later, he played the lead in The Truman Show, getting the chance to display his dramatic acting chops as well.
The Truman Show follows an ordinary man (Carrey) who begins to realize that his life is the subject of a television show, with everyone and everything around him being fake. Nominated for all sorts of awards, the film is as hilarious as it is intriguing and thought-provoking. Four stars (35%) is the most common score.
2

Kit Kat (1991) – 4.18
The two highest-rated films with comedy as the main genre come from outside of the United States. First up is Kit Kat, an Egyptian movie that focuses on another serious setup on paper. It tells the story of a blind man who spends his nights smoking hash and dreaming of riding a motorcycle.
Although not well known with American audiences, those who have seen Kit Kat give it rave reviews. That's clear in the Letterboxd ratings, with 33% of the scores being at five stars. Director and writer Daoud Abdel Sayed won several awards for this film.
1

Chungking Express (1994) – 4.26
Stream on The Criterion Channel
Romantic comedies and crime comedies are pretty commonplace in cinema but those genres aren't often blended together. However, that's the case for Chungking Express as it follows two main storylines of police officers who fall in love with completely different women.
Set in Hong Kong, the movie stars icons like Tony Leung, Brigitte Lin, and Faye Wong. Chungking Express was well-received, winning Best Picture at the 1995 Hong Kong Film Awards and seeing 31% of the users on Letterboxd give it five stars.
NEXT: 10 90s Comedy Movies That Deserved Sequels

Next
Marvel's Eternals: 10 Best Quotes

About The Author