MUSICAL
The 14 Greatest Movie Musicals Of The 21st Century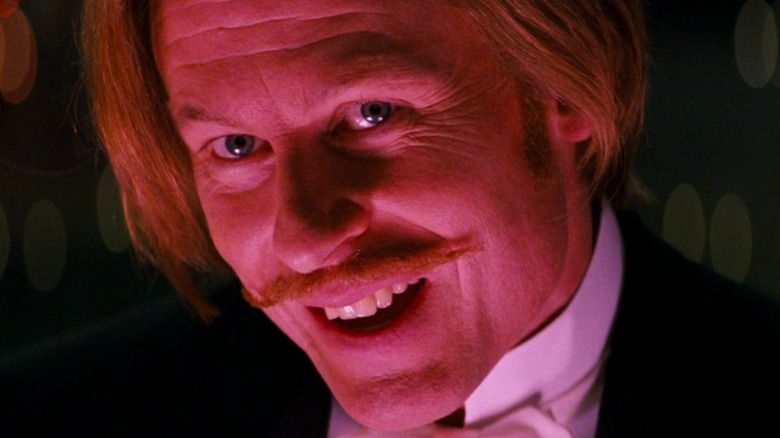 20th Century Fox
Movie musicals have been popping up with great frequency lately, so what better time to take stock of the best movie musicals of the 21st century? We've been out of the Golden Age for a while now, and some new classics should be recognized.
There are two kinds of movie musicals, based on the two ways that musical numbers can appear in a film: diegetic vs. non-diegetic. The former, diegetic, means that the song is being performed as a part of the plot, like Marty McFly taking the stage in "Back to the Future," and all of the characters know that a song is being sung. Non-diegetic musical numbers are the more traditional, in which a character bursts into song and isn't necessarily aware that they are singing in the real world — like a Disney movie or "West Side Story." 
Some films, like "Enchanted" for example, combine the two or take a more meta approach. Musical numbers in a musical can be non-diegetic or diegetic, but in order to be considered a musical the musical numbers, plural, should advance the plot or character development in some way. So, films with music like "That Thing You Do" and "Almost Famous," for example, are not musicals. Nor is "Paddington 2," unfortunately.
This list is also limited to theatrically released movie musicals, though there have been some excellent made-for-television musicals and specials recently, from "Teen Beach Movie" to "Grease Live." Without further ado, here are the best from the last 20 years:
14. Sweeney Todd: The Demon Barber of Fleet Street (2007)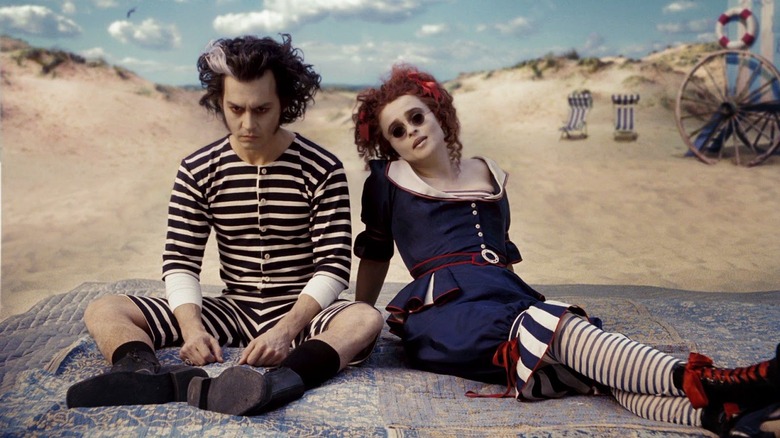 Warner Bros.
"Sweeney Todd: The Demon Barber of Fleet Street" is towards the bottom of this list because it commits one of the stage-to-film adaptation's cardinal sins: casting movie stars who can't carry a tune. But what do you expect Tim Burton to do – not cast Johnny Depp and Helena Bonham-Carter? He clearly made a deal with the Devil and has to cast them — and the film succeeds as a movie musical despite their lack of commitment to the whole singing thing. 
This musical, like really any of composer Stephen Sondheim's musicals, is important to keep in your back pocket any time someone tries to tell you that certain subjects are inappropriate for musicals. Don't let anyone tell you that "Dear Evan Hansen" couldn't be a black comedy because it's a musical and musicals have to be sincere. "Sweeney Todd" is about a man who murders his clients and has his downstairs neighbor bake them into meat pies she sells to the neighborhood. That's way worse than fabricating emails to manipulate a grieving family. It's not even a little bit sincere, but it's darkly entertaining and a great musical.
13. Phantom of the Opera (2004)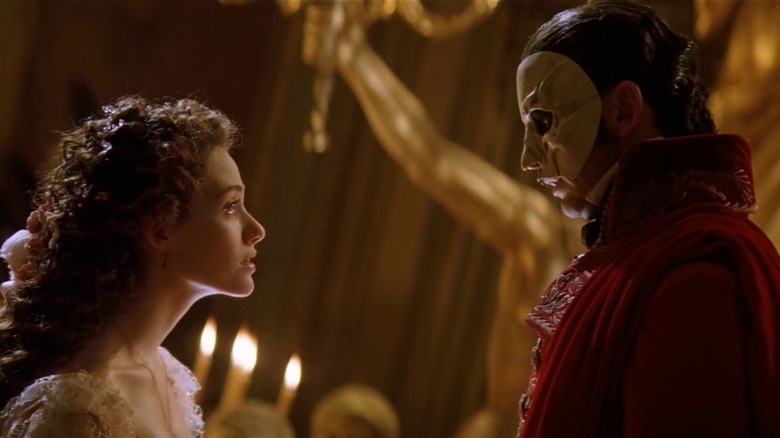 Warner Bros.
Like "Sweeney Todd," this would be a perfect film if it weren't for Gerard Butler's awful singing voice. In real life, it's fine when composers can't really match the pitches they're writing down … but the Phantom's songs are kind of important and should probably sound good. Still, director Joel Schumacher made some strong adaptation choices to clarify Andrew Lloyd Webber's wild musical adaptation of Gaston Leroux's novel. Plus, Emmy Rossum, Minnie Driver, and in particular Patrick Wilson give wonderful singing performances. 
The story of "The Phantom of the Opera" is far darker than you remember. The toxic and ultimately doomed relationship between the heroine and the villain has been billed as musical theatre's "greatest love story" for years. It's wild! Your friend who's obsessed with Rey and Kylo Ren has nothing on "Phantom" shippers. But the film works because it understands the tone it needs to have. Schumacher hones in on the gothic horror of it all and creates something all-encompassing and beautiful. 
12. Across The Universe (2007)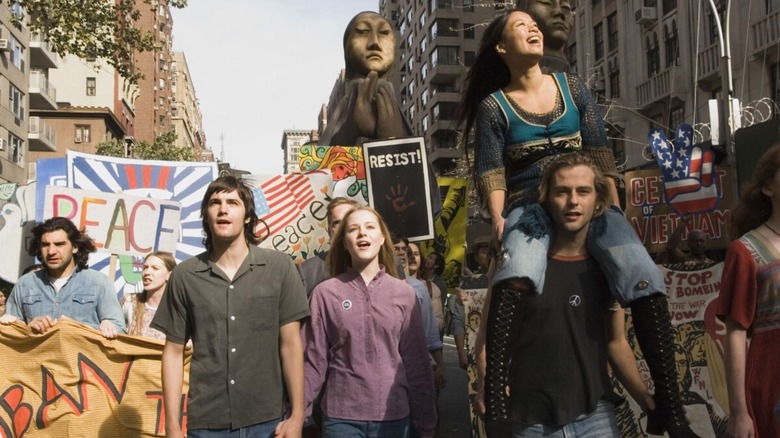 Sony
Many a film, documentary, and Cirque du Soleil performance has tried to capture the magic of The Beatles music, and "Across the Universe" kind of nails it with a totally original story. The characters, all named for different Beatles songs, represent different archetypes from the 60s in this epic and romantic movie musical from director Julie Taymor. It's "Hair" meets "Moulin Rouge" in the best way possible.
Taymor's reputation was unfortunately tarnished when her Broadway musical "Spider-Man: Turn Off The Dark" infamously went through rewrites and saw cast members sustaining injuries. However, that should not wash out her contributions to film and theatre as an auteur. The director is known for, no pun intended, taking big creative swings, and there's no better example of that than "Across the Universe." Few 21st century movie musicals are this inventive with their musical numbers. There are puppets! More movie musicals should have puppets. 
11. Pitch Perfect (2012)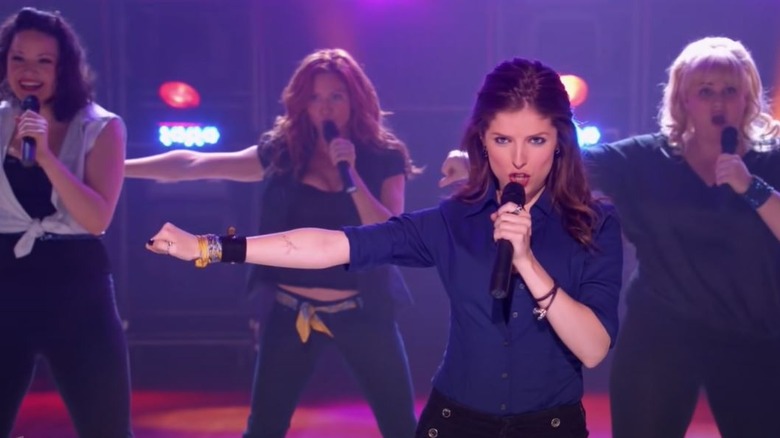 Universal Pictures
The sequels didn't live up to the original, but that shouldn't count against how well-executed "Pitch Perfect" is as a comedy and as a musical. It's a seamless coming-of-age story about a niche community — college a capella — that's begging to be mocked with love. Since many of the songs are performed in competition, it's the scene itself that moves the plot along, not necessarily the lyrics or the song choices. But sometimes the songs themselves matter, enough so to make this a musical and not a movie about musicians. The Barden Bellas at least go through a distinct change, which is reflected in their performances. 
Not to be hyperbolic, but Beca Mitchell is one of the best textbook protagonists in 21st century film as well. What's her character flaw? She doesn't know how to work with other people and thinks she's too good for college. What's her talent? She looks at music in innovative and creative ways by making mash-ups … which was still considered pretty cool in 2012. Having her join an a capella choir where she can help them find a new sound while learning to be part of a group and therefore also being helped by them is, in a word, perfect. 
10. High School Musical 3: Senior Year (2008)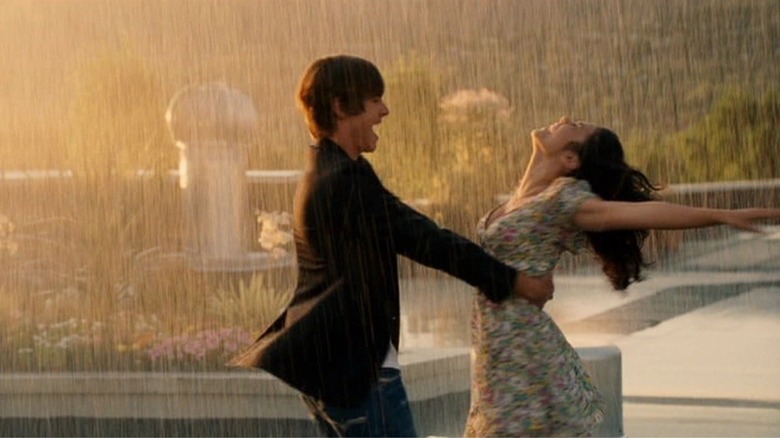 Disney
The "High School Musical" phenomenon was so big that after two Disney Channel Original Movies, the House of Mouse took the third installment to the big screen. Lucky for them, it didn't disappoint. The third film is a perfect ending to the trilogy and a large-scale movie musical with production values befitting its theatrical release. It takes certain archetypes that became stables of the "High School Musical" franchise — sports ball choreography, Ryan and Sharpay's self-indulgent duet, Troy's angry song, Gabriella's breakup ballad — and make them bigger than ever. 
For three consecutive films, the students at East High struggle with who they want to be versus what societal pressures want them to be. In "Senior Year," they finally resolve that long-running conflict. The stakes are relatively low, but the emotions are higher than ever. It deserves to be listed among the best movie musicals of the 21st century because it modernizes a trope popularized by the movie musicals of the 20th century: Let's Put On A Show. 
9. London Road (2015)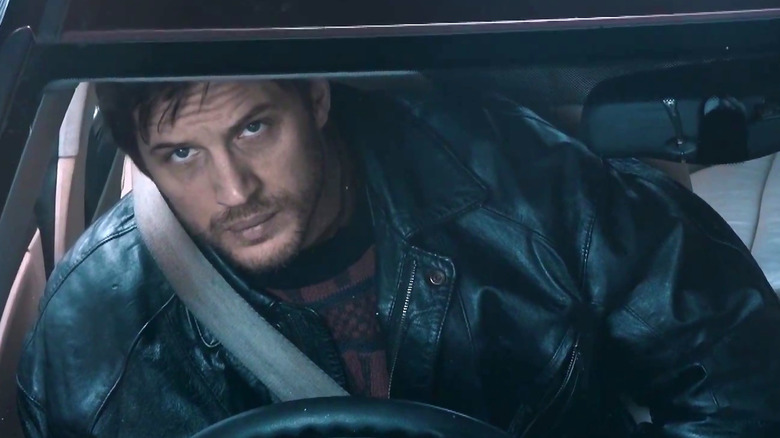 BBC Films
Would it surprise you to hear that there's a movie musical based on a true crime that stars Tom Hardy and Olivia Colman? This is a real movie! "London Road" is an adaptation of a stage musical that premiered at London's National Theatre. It's a small, intimate, underrated movie musical that you should absolutely add to your watchlist if you haven't already seen it. 
"London Road" is about the Ipswich serial murders, and the residents of the neighborhood who were terrorized by the killer known as the Suffolk strangler. It's a "verbatim musical," which means that the song lyrics are taken verbatim from interviews with the residents, local sex workers who feared they were being targeted, and members of the press who came to Ipswich to cover the murder trial. The melody of the songs also seek to capture the natural speaking rhythm of the interviews. Verbatim or documentary theatre is a style that has been growing in popularity (another example is the Tony award-winning musical "Come From Away," which does have a professional recording on Apple TV+) and it's cool to see it pulled off so successfully in a film. 
8. Moulin Rouge (2001)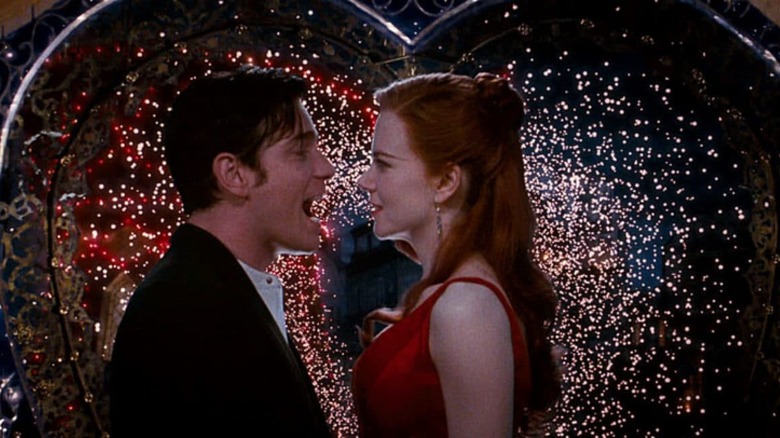 20th Century Fox
The decade got off to a smashing movie musical start with Baz Luhrmann's tragic romance that uses pop music against a Bohemian setting. Whether you like it or not, "Moulin Rouge" defined a generation. If you didn't have friends who awkwardly belted the "Elephant Love Medley" into each others' faces, there's a dangerous possibility that you were that friend. It could have defined what the movie musical was going to look like in the 21st century, but few auteurs since have dared to be so unblushing in every way.
Baz Luhrmann's "Red Curtain Trilogy" started small with "Strictly Ballroom," upped the ante with the ambitious and genre-blending "Romeo + Juliet" and went all out with "Moulin Rouge." Like any good musical, the songs burst out of the characters like emotions that can no longer be contained. It's a never-ending adrenaline rush and spectacle, which can alienate some viewers but never wavers in what kind of film it wants to be.
7. Rocketman (2019)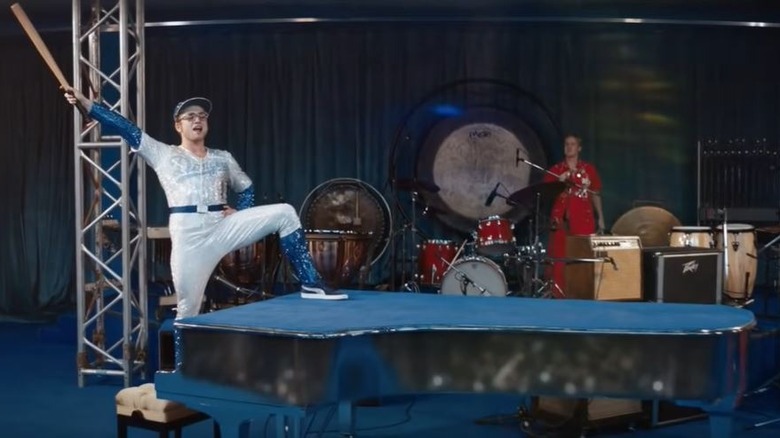 Paramount
"Rocketman" could easily have been another predictable biopic about the highs and lows of a famous artist, but director Dexter Fletcher went above and beyond by turning the story of Elton John into a larger-than-life musical. The music tracks John's career while dipping into fantasy to explain his state of mind at various points in his career. Many of the musical numbers actually start off as diegetic, with John performing a gig, and quickly become non-diegetic fantasy sequences or montages. What's more, Taron Egerton deserves to be the next high profile musical leading man, like Hugh Jackman and Zac Efron before him. 
If you like "Rocketman," you may want to check out another of Fletcher's musical films — "Sunshine on Leith." It's a charming little romantic comedy that uses the songs of The Proclaimers to tell the stories of two soldiers returning home to family and romantic exploits in Edinburgh after a tour in Afghanistan.
6. Chicago (2002)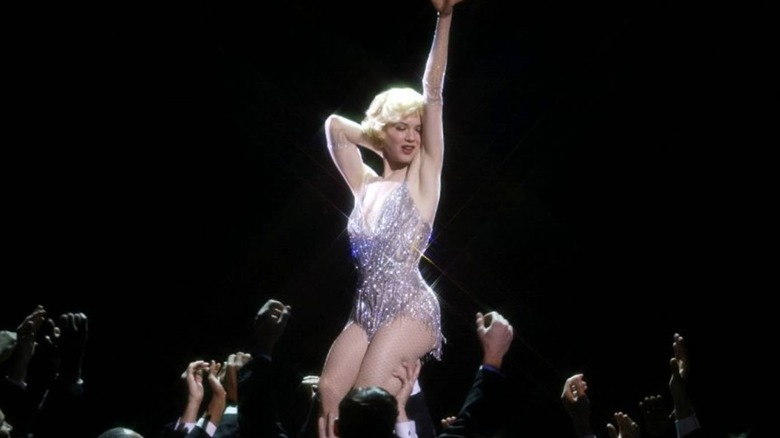 Miramax
"Chicago" is a traditional adaptations of a stage musical into a movie musical that actually works. You know how people often complain that "the book is better" when adaptations come out? There are similar naysayers for every movie musical that makes its way to the big screen. But Rob Marshall made good with "Chicago," and the film ended up winning Best Picture!
The movie uses a narrative device to justify the non-diegetic musical numbers. Every time the characters break into song, the performance is a figment of Roxie Hart's imagination. She's fantasizing that her humdrum life and subsequent murder trial is full of jazz music and tap dancing. That totally works for this particular character and story, but isn't necessary. You don't always need to explain why animals talk in animated movies, you don't always need to explain why sitcoms resolve problems in 30 minutes or less, and you don't always need to explain why characters are singing in musicals. 
5. Inside Llewyn Davis (2013)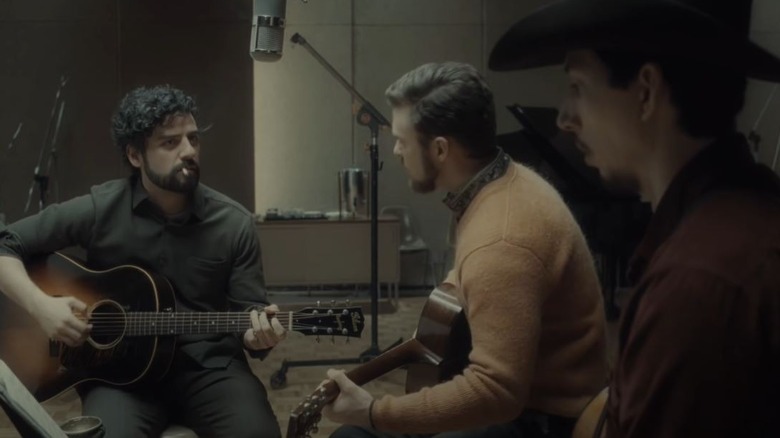 CBS FIlms
The Coen brothers' black comedy may not be considered a musical by all, but it should. (It's also just an incredible film.) The diegetic musical numbers are not arbitrary. There's a clear delineation between the kind of folk music that Llewyn, played by a perfectly sad and perpetually cold Oscar Isaac, wants to be playing versus the peppy and overly sincere folk music his friends prefer. When he sings "The Shoals of Herring," a song his father used to like, more of his character is revealed. 
They also move the plot along. When Llewyn reluctantly records the hit "Please Mr. Kennedy" and has to refuse royalties in order to be paid in cash, that is a moment of tragedy. When Llewyn is asked to sing "Fare Thee Well," a song he used to sing with his dead partner, it is a moment of great conflict. When he auditions for a gig with the dour "The Death of Queen Jane" it is a moment of self-sabotage. Even "Green Green Rocky Road," which Llewyn sings while on the road, is meant to annoy his folk-hating companion. This is what pushes "Inside Llewyn Davis" from movie-with-music to movie musical.
4. Hairspray (2007)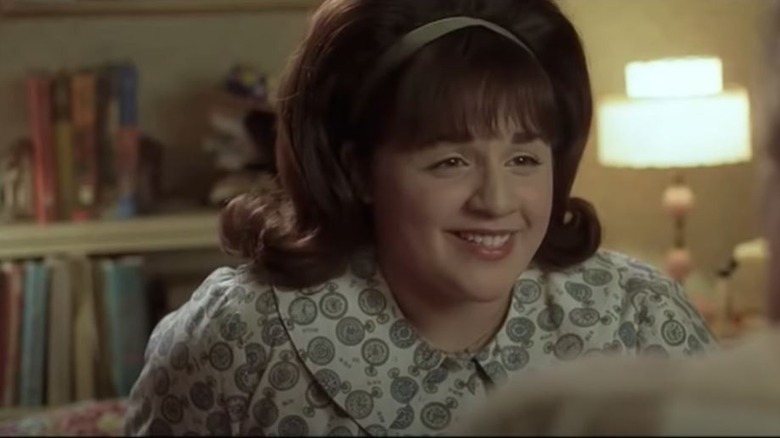 New Line Cinema
The 2007 film "Hairspray," adapted from the stage musical adapted from John Waters' 1988 comedy, is one of the most underrated movie musicals of the 21st century. The story was pared down without taking too much away, alienating the audience, or losing pace. It's not the flashiest movie musical on this list, but it is one of the most solid. 
Plus, there is an insidious practice that Broadway musical enthusiasts have come to expect from movie adaptations: the dreaded new song shoved into the movie in order to get a "Best Original Song" nomination at the Academy Awards. These songs are almost never as good as the rest of the musical's songs, occur at a moment in the plot that doesn't need a song, and are too often sung by the film's most famous actor with the weakest voice. "Hairspray" is one of the rare exceptions to this rule. "The New Girl In Town" and "Ladies Choice," which were both added to the film, are stellar additions to the musical and better than the songs that were cut from the stage musical in the adaptation process. 
3. In The Heights (2021)
After a series of disappointing movie musicals adapted from hit Broadway shows like "Into the Woods," "Les Miserables," "Cats," and "The Prom," "In The Heights" was a breath of fresh air. This movie doesn't have to hide behind star power, "live singing" or "digital fur technology" in order to justify its existence as a movie where characters happen to break into song. Put plainly, "In The Heights" isn't scared to be a musical. Every member of the cast is talented. The dancing is shot in a way that highlights the choreography. Director Jon M. Chu's feature film debut was "Step Up 2: The Streets," so that shouldn't come as a surprise.  
Like "Moulin Rouge," the songs occur naturally from the dialogue when the characters can no longer speak about what's on their mind, which is all we ask of a non-diegetic musical. Film and television often struggle with that transition from talking to singing. But "In The Heights" is not only successful with its musical numbers, it's beautiful. They are acts of magical realism, an artistic movement that was popularized by Latin American artists in the 1950s — one that is fitting for the movie's characters, setting, and subject matter, as well as inventive for the movie musical form.
2. Sing Street (2016)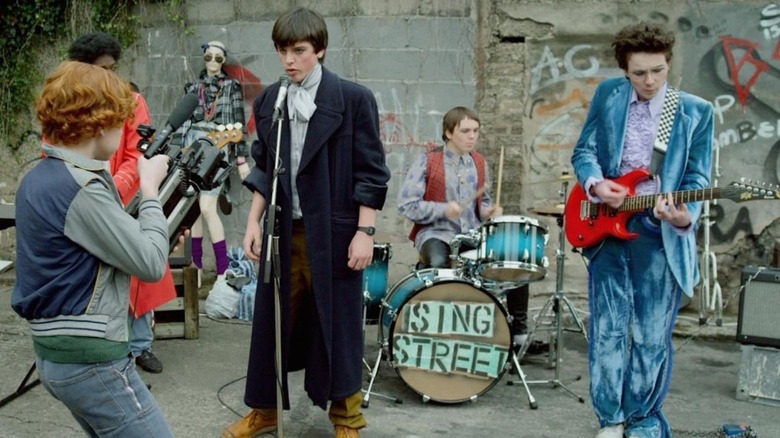 Lionsgate
Director John Carney is responsible for the wildly popular and Academy Award-winning indie movie musical "Once," which barely missed this list, and did it again with "Sing Street." It's rare for an original movie musical to make such an impact and Carney's done it twice. 
"Sing Street" shot to such a high spot, and should be cemented as one of the best movie musicals of the century, because of how the film uses different musical styles to represent different points in the artistic journey that Conor Lawlor and his friends go on as the film progresses. The plot is fairly simple: working class kids in Dublin find the escape and hope for a future they so desperately need by forming a band. As they are introduced to Duran Duran, The Cure, Hall & Oates, and other quintessential 80s bands, their entire taste and style morphs — until eventually they find themselves. It's a creative way to make diegetic musical numbers take a more active role in the character and plot development. They don't just stop the action to rehearse or perform a song. The lyrics and genre of each song matter.
1. Mamma Mia! Here We Go Again (2018)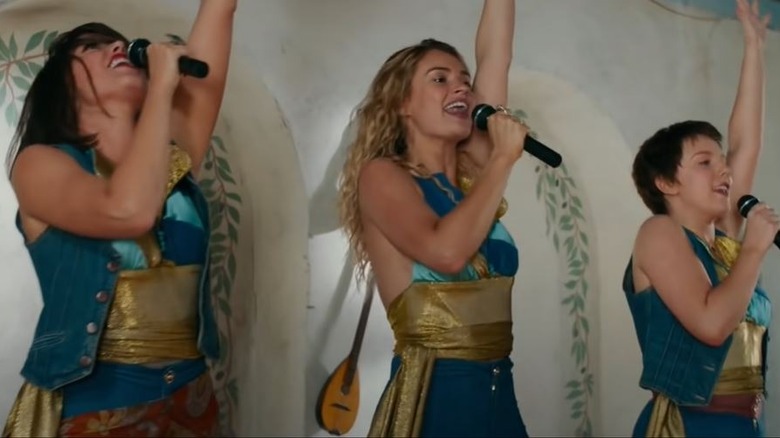 Universal Pictures
Not only is the sequel to 2008's "Mamma Mia" better than the original, it's the best movie musical of the century thus far. It's fitting that a film that uses the plot structure of "The Godfather Part II" is also a superior film, isn't it? The plot doesn't matter too much, but that's not a euphemism to cover up a lack of plot. It's there and it's solid, but it doesn't weigh down the bright, totally over-the-top musical numbers. Movie musicals do not have to be joyous, but "Mamma Mia: Here We Go Again" has an overabundance of joy.
The musical numbers are sometimes diegetic and sometimes non-diegetic but always move the plot and/or character development along. That's an impressive feat, as the ABBA songs were not written specifically with these characters in mind. It makes the case for the jukebox musical — a term for musicals that use pre-existing songs from established artists, like "Jersey Boys" and "Rock of Ages" — better than any of its predecessors ever has.